Double Shut Off, High Flow Quick Disconnect - External Pin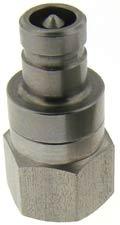 Message
Related Products
QH1I-DS Internal
Compatible internal mating half for for the QDC double shut off high flow quick disconnect series.
Configure Here
Overview
Description: External end of Beswick QH series high flow quick disconnect. Internal and external ends will shut off when disconnected.
Max Pressure Rating: 500 psig while connected. 200 psig while connecting or disconnecting.
Materials: 302 and 303 Stainless Steel components.
Features
Snap connection and releasing sleeve disconnection.
Shuts off when disconnected.
QHE-DS half must be paired with a QHI-DS half for a complete quick disconnect assembly.