Prevent a major leak failure, and all the associated problems caused by leaks, by installing the Beswick EFV valve into your compressed air, gas or liquid systems.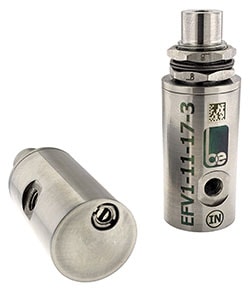 The EFV acts as a "circuit breaker" for fluid flow. If flow exceeds the set limit, the EFV1 will trip, shutting off the flow. The valve has an adjustable bleed between the inlet and outlet, which allows the EFV1 to reset when flow is shut off downstream of the valve. If bleed flow is not desired, the bleed can be closed and the EFV1 alternatively reset by shutting off and venting the source pressure.
You can configure your Excess Flow Shut-off Valve and view additional technical details on our online catalog here.
If you have any questions about our excess flow shut-off valve or any of our other products please feel free to contact a Beswick Engineering Applications Engineer.
Beswick Engineering specializes in miniature liquid and pneumatic fittings, quick disconnects, valves and regulators. We have a team of degreed Application Engineers ready to assist you with your questions. Custom designs are available upon request.