M3 Male Thread to Female Thread, Sintered Filter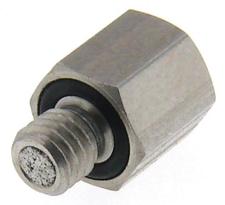 Message
Related Products
Replacement O-Rings
O-Ring seals in all available materials.
Configure Here
Overview
Description: The filter element is contained within a M3 X 0.5 male to M3 X 0.5 female threaded fitting so that components may be stacked for maximum efficiency and compactness. The filter is pressed into the male threaded end of the fitting. The filter is used to keep foreign material out of the fluid stream where small orifices or precision valves may get clogged by contaminants.
Max Pressure Rating: 250 psig
Material: 303 or 316 stainless steel body with 316 stainless steel sintered filter.
Features
Sintered filter element.
Captured O-Ring face seal for leak tight installation
Filter Size: 20 micron