10-32 Male thread to 10-32 Female Thread, Jewel Orifice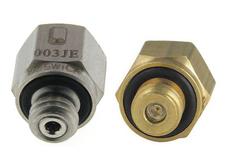 Message
Related Products
Replacement O-Rings
O-Ring seals in all available materials.
Configure Here
Overview
Description: 10-32 female to 10-32 male fitting with sapphire jewel. Jewel is pressed into brass bodies. For stainless steel models, jewel is held in place with a stainless steel retaining screw and Teflon seal.
Max Pressure Rating: 250psig
Features
Sapphire is an excellent orifice material for critical flow applications because of its extreme wear, heat and corrosion resistance. The sapphire orifice diameter is held to a very close tolerance: +/- 0.0001″.
Captured O-Ring face seal for leak tight installation.
Note: Sapphire orifice sizes above 0.021″ are special order only. Please contact us for details.