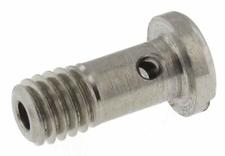 Message
Related Products
Replacement O-Rings
O-Ring seals in all available materials.
Configure Here
Overview
Description: Round head stud with screwdriver slot and M3x0.5 external thread. Used in M3 series elbow and tee fittings with built-in barbs (M3LS and M3TS series).
Note: There is no o-ring gland. The o-ring provided with the part rests just under the round head.