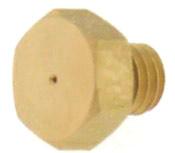 Message
Related Products
Replacement O-Rings
O-Ring seals in all available materials.
Configure Here
Overview
Description: M3 male threaded fitting with micro-drilled orifice for precise flow restriction.
Max Pressure Rating: 1,000 psig
Features
Beswick has developed specialized micro-drilling technology to produce precision orifices as small as 0.004" diameter in brass and stainless steel. Beswick micro-drilled orifice fittings are an excellent choice for the majority of applications.
Captured O-Ring face seal for leak tight installation.
Note: For critical metering applications, Beswick recommends selecting an orifice diameter no more than 70% of the nominal waterway diameter leading up to the orifice feature.
Note: Please allow sufficient time for delivery. Some configurations are made to order and come with extended lead times.