10-32 Thread to 1/8 Inch O.D. Nylon Tubing, Straight Compression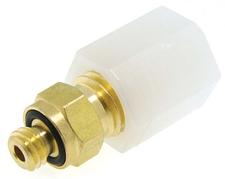 Message
Related Products
Replacement Nut/Ferrule
Single piece nylon combined nut/ferrule.
Configure Here
Replacement O-Rings
O-Ring seals in all available materials.
Configure Here
Overview
Description: Miniature compression fitting with 10-32 external thread, for 1/8″ OD stiff plastic or metal tubing. This fitting consists of a brass body, with a nylon nut and ferrule combined in one piece.
Max Pressure Rating: 125 psig.
Features
Beswick's reusable nylon ferrule and captured O-ring face seals provide for a leak-tight seal at both the threaded end of the fitting and the fitting to tubing interface.
Easy to install without special tools.