Thread to Muffler, Sintered Muffler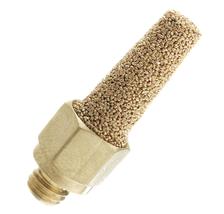 Message
Related Products
Replacement O-Rings
O-Ring seals in all available materials for both 5/16" and 1/4" hex models.
Configure Here
Overview
Description: The muffler can be used for reducing exhaust and inlet noise or for filtering in pneumatic circuits. 5 and 40 micron sintered elements are available.
Max Pressure Rating: 300 psig
Features
Sintered muffler element
Captured O-Ring face seal for leak tight installation for straight threaded models
Note: One Buna-N o-ring used on 10-32 threaded mufflers only, not on pipe threaded versions.