10-32 Female Thread to 10-32 Female Thread Universal Adapter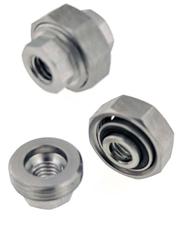 Message
Related Products
Replacement O-Rings
O-Ring seals in all available materials.
Configure Here
Overview
Description: Universal adapter fitting with 10-32 female threads. Used to connect two components with 10-32 male threads and permits any angular relationship of the connected components. The MU adapter can also be used as an easy way to break a connection without needing a quick disconnect or remove tubing from a barb or compression fitting. Includes internal O-Ring seal to ensure a leak tight connection.
Max Pressure Rating: 1,500 psig in brass and 3,000 psig in stainless steel.
Features
Beswick adapter fittings provide a convenient method for adapting Imperial/English threaded components and metric threaded components.
Our adapters feature captured O-Ring face seals for leak tight installation where applicable.