Double Shut Off, Dry Break, High Flow Quick Disconnect - External Pin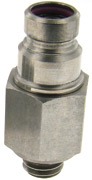 Message
Related Products
QDI3L Internal
Compatible internal mating half for for the QD3L dry break high flow quick disconnect series.
Configure Here
Overview
Description: The QD3L product line features high flow quick disconnects with a double shut off dry break feature. Internal and external ends will shut off when disconnected. The dry break connects without leakage or fluid spray. Additionally, the design minimizes dead volume (the space between the internal and external ends when connected) to essentially eliminate any leakage when disconnecting. The M8 thread option allows for an equivalent flow path of 0.180 in.
Awards: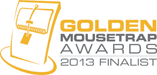 Max Pressure Rating: 200 psig
Maximum Spill Volume Upon Disconnection: Approximately 0.006ml
Materials: 302 and 303 Stainless Steel components
Features
Snap connection and releasing sleeve disconnection.
Shuts off when disconnected.
Leak free connection and disconnection.
High flow design.