Double Shut Off, Dry Break, Non-Latching Quick Disconnect - External Pin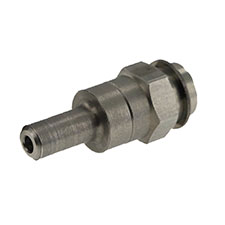 Message
Related Products
QDINL Internal
Compatible internal mating half for the QDNL dry break quick disconnect series.
Configure Here
Overview
Description: External half of a non-latching dry break quick disconnect assembly with automatic shut-off, for use with dry break internal end. Non-latching versions of our dry break quick disconnects are useful for applications where multiple disconnects will be used in close proximity, when a separate latching mechanism will be used, or when the disconnect will not be readily accessible in service.
Maximum Pressure Rating: 500 psig while fully engaged. 200 psig while connecting or disconnecting.
Materials: 303 stainless steel body. 302 stainless steel springs. ENP brass nut and 410 stainless steel washer on panel mount configurations.
Features
Non-latching design allows for easier integration in some systems.
Shuts off when disconnected.
Leak free connection and disconnection.