Multi Line, Dry Break Quick Disconnect - Internal Pins - M3 thread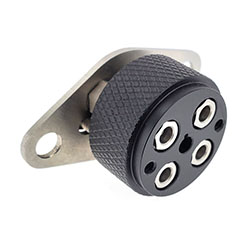 Message
Related Products
QDM3 Multi Line External
Compatible external mating half for for the QDM34L multi line quick disconnect series.
Configure Here
Overview
Description: Internal half of the Beswick series QDM34L dry break quick disconnect multi-line assembly. The four line quick disconnect features a releasing sleeve that permits one-hand connecting or disconnecting of several fluid lines simultaneously. The design incorporates a keyed location pin to insure correct orientation of the fluid lines during connection. The dry break design allows for connections and disconnections free of leakage or fluid spray. Additionally, the design minimizes dead volume (the space between the internal and external ends when connected) to essentially eliminate any trapped fluid when disconnecting.
Max Pressure Rating: 500 psig while connected. 200 psig while connecting or disconnecting.
Materials: 303 and 316 Stainless Steel components with acetal releasing sleeve.
Temperature Range: -4F to 250F (-20C to 120C) for Buna-N models
Features
Snap connection and releasing sleeve disconnection.
Both internal and external halves shut off when disconnected.
Leak free connection and disconnection.
QDM3I4L must be paired with a QDM3E4L half for a complete quick disconnect assembly.