At Beswick we realize our customers who work on oxygen service, analytical instrument and other high tech applications have more stringent requirements for component cleanliness and handling. This is why we offer optional Instrument Grade Cleaning on nearly all of our products. To add Instrument Grade Cleaning to a product where it is available, simply choose it from the Cleaning Options pull-down menu.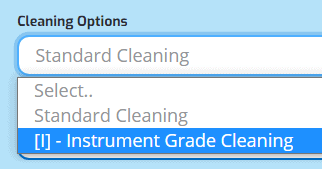 Option Details
Standard Cleaning
You can be confident that all Beswick parts will be cleaned and free of machining oils. 100% of our machined metallic components undergo a cleaning process using a mild detergent that removes all traces of the fabrication process such as chips, coolant, oils and other unwanted contaminants. The components are then rinsed with clean water and completely dried before being immediately packaged in plastic for storage. This ensures that our components are not exposed to the dust and contamination from the environment any longer than they need to be.
Instrument Grade Cleaning
This option is best used in critical applications where extra cleaning and handling care is required (i.e., clean rooms, medical instrumentation, analytical instrumentation, etc.). The parts that require this option undergo the same cleaning process as the standard parts, with the added assurance that the metallic machined parts are unused and in the original plastic storage prior to assembly. These products will be assembled with seals and O-rings which are in the original packaging from the manufacturer. All products that require this level of cleanliness are to remain in sealed plastic storage or are either handled, assembled, inspected, and otherwise processed by workers who have cleaned their hands prior to assembly. Additionally, all work areas, tools, and equipment that are used in the production of these products are to be cleaned prior to use. This process ensures a super clean product serving a special mission in your design. If you have a specific requirement for your application please don't hesitate to contact an Applications Engineer.