Beswick Engineering offers several options for component lubrication. We realize many applications have strict requirements for cleanliness and out-gassing characteristics so we want to ensure you have the most options available to you when choosing Beswick products.
On our online catalog you will find that most components have a Lubrication Options or Special Options category on the configuration screen. Each option is covered in more detail below.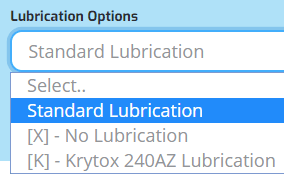 Option Details
Standard Lubrication
Selecting the Standard Lubrication Option specifies that seals on the product may be exposed to the default lubricant for your selected material according to the following table.
| | | |
| --- | --- | --- |
| Material Name | Color | Default Lubricant* |
| TFE/P (AFLAS®) | Black | Molykote® 55 |
| Buna-N | Black | Molykote® 55 |
| EPDM | Black/Purple | Molykote® 55 |
| FFKM (Perfluoroelastomer) | Black/White | Molykote® 55 |
| Fluorosilicone | Blue | Petroleum Jelly (Vasoline®) |
| FKM (Viton®) | Brown/Black | Molykote® 55 |
| Neoprene | Red | Molykote® 55 |
| Silicone | Orange/Red | Petroleum Jelly (Vasoline®) |
| Teflon | White | None |
*Default lubricant used will be the listed lubricant or equivalent.
No Lubrication
Selecting No Lubrication ensures that no seals on the product will be exposed to lubricant. The No Lubrication option is also available on most products that do not typically use lubricant during assembly. When the "-X" option is selected, seals used on your product have not been exposed to lubricant and have not been handled with tools that were exposed to lubricant. This is a popular option for critical applications that need to avoid all forms of contamination. Products that do not have an available No Lubrication option either do not have seals or lubricant is critical to their performance.
Krytox™ Lubrication
We offer Krytox™ 240AZ lubricant as an option on most products. Krytox™ is a relatively inert compound with low out-gassing properties. When specified, Krytox™ 240AZ replaces the default lubricant listed in the above table. Krytox™ is also recommended for applications where the product will be exposed to higher temperatures.
In addition to Krytox™ 240AZ, we also offer other specialty lubricants by request, such as Krytox™ 240AC, Krytox™ 240LVP and Apiezon® L. If you have a specific requirement for your application please don't hesitate to contact an Applications Engineer.
Lubrication Technical Specifications
Additional technical information for the lubricants that we offer can be found through the manufacturer's websites:

Krytox
Molykote
Apiezon