Beswick Engineering's new NV3I needle valve has a new form factor featuring in-line M3 porting. The new configuration allows for simplified tubing connections and higher pressure rating while maintaining a compact layout .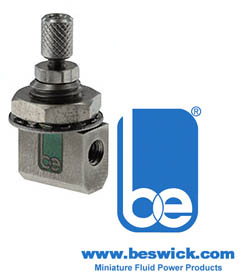 The new design is rated for inlet pressures up to 1,000 psi (68 bar). The fine threaded adjustment provides 4 turns from fully closed to fully open. The NV3I is manufactured from stainless steel and all models are supplied with a 1/4-28 thread and a 3/8″ hex nut for panel mounting.
If you have any questions about our needle valves or any of our other products please feel free to contact a Beswick Engineering Applications Engineer
Beswick Engineering specializes in miniature liquid and pneumatic fittings, quick disconnects, valves and regulators. We have a team of degreed Application Engineers ready to assist you with your questions. Custom designs are available upon request.