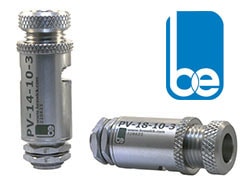 Pinch valves are used to control fluid when it is advantageous to avoid fluid contact with mechanical components and elastomeric seals, where other designs such as ball valves and poppet style valves have direct fluid contact. Pinch valves achieve fluid control by clamping down on the outside diameter of the tubing to stop flow. The fluid inside the tubing does not come in contact with the pinch valve and the valve cannot malfunction from contaminants carried by the fluid. Since the valve is completely external to the flow path it does not restrict flow when in the open position.
Beswick Engineering announces the release of the PV-18-10-3 and PV-14-10-3 miniature pinch valves for these challenging applications. The new Beswick valves are offered with both pneumatic actuation and a manual knurled knob for additional flexibility. The PV valve can be used to control flow rate as well as provide an on/off function. Machined from corrosion resistant 303 stainless steel, this design is ideal for applications requiring a higher degree of cleanliness such as in the medical, pharmaceutical, and food & beverage industries.
The PV pinch valve is now available for 1/8 inch and ¼ inch O.D. tubing. The valves also includes a panel mount with lock nuts for easier mounting.
You can find the PV series pinch valves on our website here.
If you have any questions about our pinch valves or any of our other products please feel free to contact a Beswick Engineering Applications Engineer.
Beswick Engineering specializes in miniature liquid and pneumatic fittings, quick disconnects, valves and regulators. We have a team of degreed Application Engineers ready to assist you with your questions. Custom designs are available upon request.