New Adjustable Check Valve Released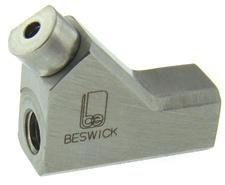 Reduce assembly time and save valuable space with Beswick's miniature adjustable CKVA series check valve. No longer do you need multiple valves or extra assembly time to disassemble connections. The miniature adjustable check valve has an external adjustment which allows its forward cracking pressure to be varied from 0.5 psig to 40 psig (0.034 to 2.7 bar). This added adjust-ability also comes contained in an extremely small envelope with many material options. All internal components are fabricated from 303/316 stainless steels to insure excellent corrosion resistance and long life.
Find out more about the CKVA series on our online catalog.
Contact a Beswick Applications Engineer to discuss your requirements today.