New High Resolution Diaphragm Cap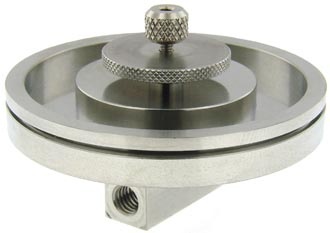 Beswick Engineering Co., Inc. announces the release of a 1 7/8 (1.875) inch high-resolution diaphragm cap for the most demanding low pressure applications. This, larger diameter, diaphragm cap assembly greatly increases the sensing area and therefore the responsiveness (Force = Pressure x Area) of the regulators. Pressure regulators assembled with the 1 7/8 (1.875) inch high-resolution diaphragm cap will provide a higher degree of accuracy and resolution at very low outlet pressures (typically less than 5 psi) and low flow rates. 
The high-resolution diaphragm cap is in stock for most diaphragm pressure regulators and can be found under the Body Style option category.
Beswick Engineering specializes in miniature liquid and pneumatic fittings, quick disconnects, valves and regulators. We have a team of degreed Application Engineers ready to assist you with your questions. Contact a Beswick Applications Engineer to discuss your requirements today.