New M3 Thread to Barb Sintered Filter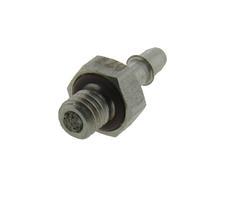 Beswick Engineering has introduced a new M3 thread to barb sintered filter measuring at 20 microns. The FM3H series of ultra miniature filter fittings include M3x0.5 threads and an integrated sintered 316 stainless steel filter as well as 303 stainless steel body. The FM3H also features Beswick's signature captured O-ring seal available off the shelf in Buna-N (standard), EPDM, Viton, Silicone, or Fluorosilicone making it a great fit for a wide variety of miniature fluid power applications requiring filtration. With a hex size of only 5mm, it is an excellent choice for projects that focus on saving space and weight.
The FM3H is currently available for order on our online catalog: Click Here
Beswick Engineering specializes in miniature liquid and pneumatic fittings, quick disconnects, valves and regulators. We have a team of degreed Application Engineers ready to assist you with your questions. Custom designs are available upon request.  Contact a Beswick Applications Engineer to discuss your requirements today.