New Vacuum Relief Valve Released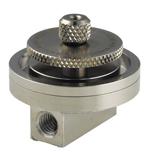 Beswick Engineering Co., Inc. announces the release of an ultra-miniature 26.2 mm diameter diaphragm vacuum relief valve. The new VRV design features a low-friction sensor and a proprietary valve arrangement to aid in releasing pressures below atmospheric pressure.   The VRV controls vacuum form a range of 0 psig (29.5 in-Hg) down to -12.7 psig (4 in-HG).  Manufactured in corrosion resistant 303 stainless steel, the valve weighs approximately 25 g. Machined with a 10-32 internal threaded inlet and outlet port, the valve can be connected to a vast variety of Beswick Engineering's fittings, quick disconnects and other stainless steel and brass products.
Beswick Engineering has a team of degreed Application Engineers ready to assist you with your questions. Custom designs are available upon request. Contact a Beswick Applications Engineer to discuss your requirements today.