New Gas Cylinder Pierce Fitting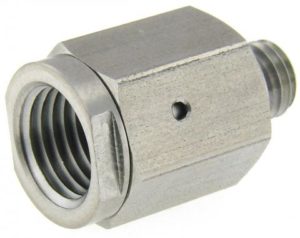 The new and improved piercing fitting design, GCP adapter fitting, prevents possible o-ring seal blow outs. This design is ideal for use with Beswick multi-stage regulator such as our PRD3HP. The improved sealing design reliably connects 3/8-24 or ½-20 threaded compressed gas cylinders directly to Beswick pressure regulators or any other ¼-28 or 10-32 threaded components in use.
Beswick Engineering specializes in miniature liquid and pneumatic fittings, quick disconnects, valves and regulators. We have a team of degreed Application Engineers ready to assist you with your questions. Custom designs are available upon request. Contact a Beswick Applications Engineer to discuss your requirements today.