Our Popular 10-32 threaded dry break quick disconnect is now available in a non-latching configuration. Non-latching quick disconnects can be a great fit for many cooling system applications.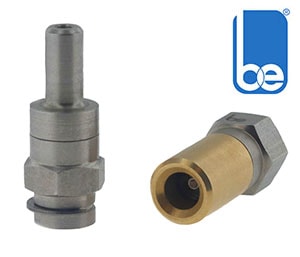 Our new QDNL series of quick disconnect provides the same dry break performance as the QD series but also adds features that allow them to be installed in applications where a latching system is not required. Both the internal and external halves of the assembly can be ordered with a "float mount" feature. The float mount option allows at least one half of the assembly to self align which reduces wear on the components and seals. The new QDNL series is also offered with optional self-lubricating O-rings as well as an optional low friction spindle for longer life in blind mate applications. Non-latching quick disconnects are a great fit for applications where another part of the assembly will be latching system components together, such as in rack mounted cooling loops.
You can find the QDNL series on our website catalog here:
External End: QDENL
Internal End: QDINL
If you have any questions about our quick disconnect offerings or any of our other products please feel free to contact a Beswick Engineering Applications Engineer.
Beswick Engineering specializes in miniature liquid and pneumatic fittings, quick disconnects, valves and regulators. We have a team of degreed Application Engineers ready to assist you with your questions. Custom designs are available upon request.