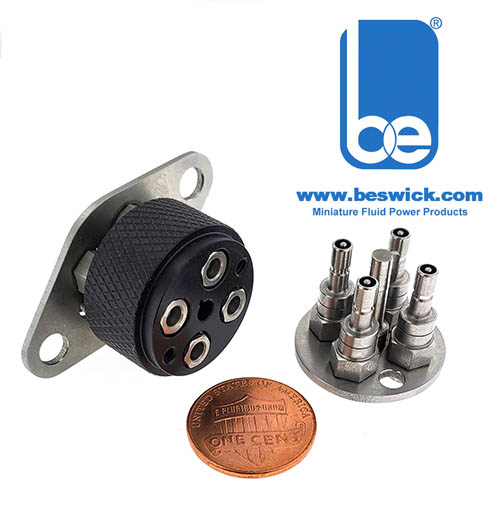 Streamline your miniature fluid lines and prevent leakage during connection and disconnection with the Beswick QDM34L series four-line, dry break quick disconnect. The dry break design minimizes dead volume (the space between the internal and external ends when connected) to essentially eliminate any leakage when making or breaking connections.  Both the internal and external ends include shut-off mechanisms that remain fully closed during disconnection and remain closed until completely connected. 
The design comes equipped with a keyed location pin ensuring correct orientation of the four lines.  The connectors are available in 303 stainless steel. Each line has an M3 threaded port for connecting fluid lines. You can find the external (male) end of the assembly on our website here and the internal (female) end of the assembly here.
If you have any questions about our quick disconnects or any of our other products please feel free to contact a Beswick Engineering Applications Engineer
Beswick Engineering specializes in miniature liquid and pneumatic fittings, quick disconnects, valves and regulators. We have a team of degreed Application Engineers ready to assist you with your questions. Custom designs are available upon request.